Smile Revamp Data Plans, now Offers Double ValuesPlus on Data Plans
Nigeria's leading 4G LTE broadband service provider, Smile Communications Ltd., is now offering double the value (100% increase in data volume) on their existing 30 days data plans at more affordable prices.
Customers on the Smile network will instead of the old offer of 2GB at N2,000 will now have 5GB at N3,000. For 3GB that was priced at N3,000 consumers will now get 7GB at N4,000.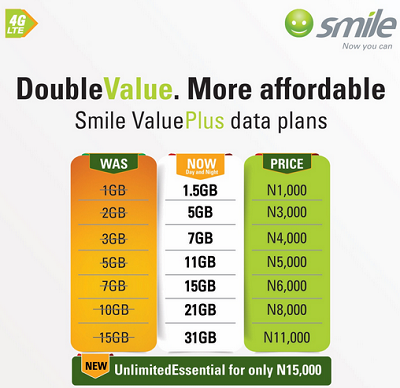 Similarly, instead of 5GB at N4,000 customers will now get 11 GB at N5,000 and in place of 7GB at N5,000 Smile now offers 15GB at N6,000. There are also other packages that have transformed the old 10GB at N7,500 to 21GB at N8,000 as well as 15GB at N10,000 to 31GB at N11,000.
Smile network has also introduced Essential unlimited plan for N15,000 for those of you who are heavy internet users.
Courtesy of the new ValuePlus data offerings, new and existing customers are assured of the best bargains; in service quality and rendition.
The main objective of the ValuePlus data plans is to give double value at more affordable prices to its customers.
So if you are using other network to surf the internet, you might want to consider this new offer from Smile network.