Quick Guide To Turn Off 'Find My iPhone'
Though Find My app is quite useful but there are sometimes you need to turn off find my iPhone feature. The reasons may vary from person to person but some of them may include- someone gained access to your Apple ID and can track your location, or you're selling your device and want to turn off Find My iPhone feature before wiping everything from your device, or you might have to purge your iPhone off all services that are tracking you.
So, to protect your privacy, you might have to change the location settings of your iPhone. Also, you can anytime disable Find my iPhone using iPhone's Find My app.
How To Turn Off Find My iPhone
'Someone might be tracking me'! Do you have the same thought in your mind? This is when you must consider disabling the Find My iPhone feature on your device to protect yourself from being tracked or so. Here are listed the steps below to turn off Find My iPhone:
On your iPhone, go to Settings.
Click on your name to open Apple ID.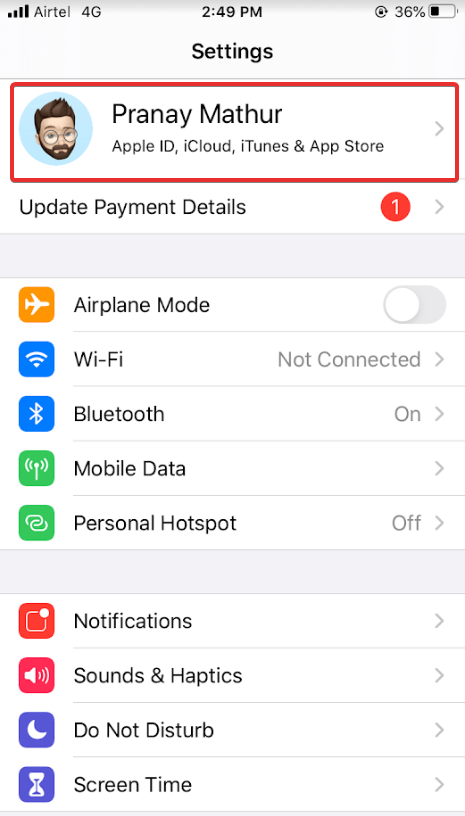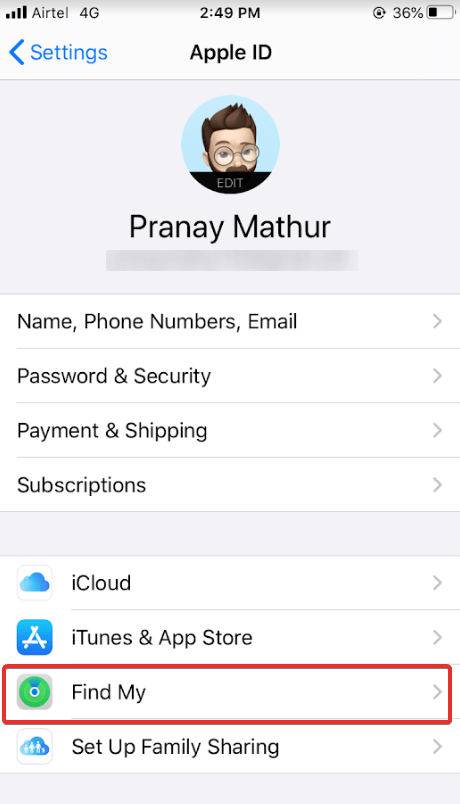 Click on Find My and select Find My iPhone.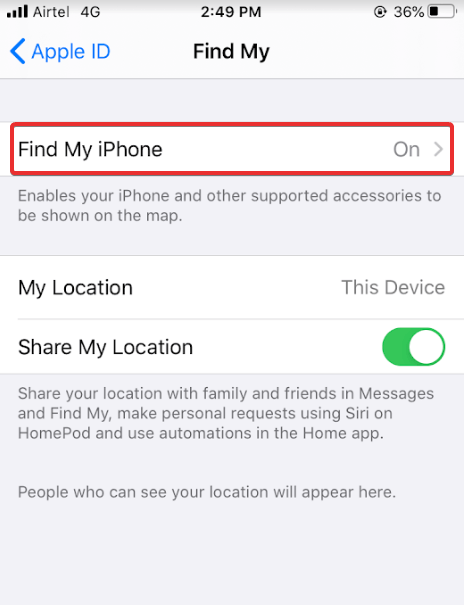 Turn the toggle off.
Then, enter your Apple password and your location services will turn off.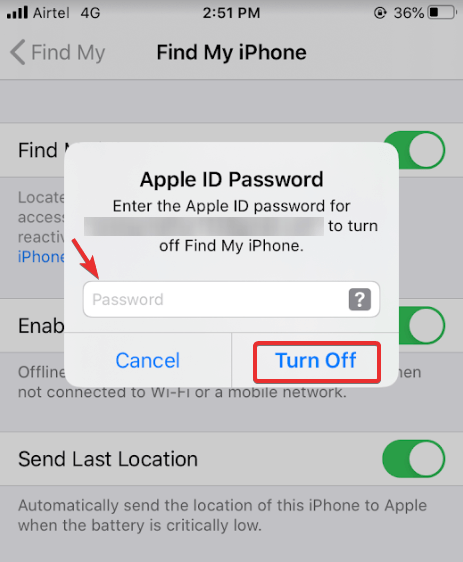 Note:
These steps are for iPhone with iOS 13. For older iOS versions, you can locate Find My iPhone under iCloud.
Connected iOS Device no longer in use? Remove it from Find My App
Are you having multiple devices connected to Apple's Find My app? There might be any device that is connected but no longer in use. Be it an iPad, iPhone, Apple Watch or Mac, anything you have connected to Apple's Find My app in the past. It is recommended to remove those devices from your app. Here's how to remove a device:
1.
Remove an iPhone. iPad or iPad Touch:
Settings > Click on your name > Find My. Then turn off Find My (device). Enter Apple ID password and tap Turn Off.
2.
Remove a Mac:
On your Mac, go to Apple Menu > System preferences > Apple ID > iCloud > deselect Find My Mac. Enter your credentials and click continue.
3.
Remove an Apple Watch or AirPods:
Turn off your Apple Watch and put your AirPods in the case. Now, Find My iPhone on iCloud.com, click on All devices, select offline devices, and then Remove from account.
Should I Turn Off Find My iPhone Feature Under Find My App?
Well, you might have your own reasons to turn off Find My iPhone. But, we highly recommend not to turn it off as turning on Find My iPhone has many advantages. Keeping Find My iPhone turned on lets you track your Apple Watch, iPhone or other connected devices if you have misplaced them, or they have been stolen.
Not only this, it further benefits parental controls wherein as a parent you can connect your child's device with your device and you can track their location while they are out of home. Basically, it is advised to keep this feature turned on to prevent your device from being lost or stolen.
Can A Stolen iPhone Be Unlocked?
Yes! Unlocking a device is no rocket science but for iPhone users, there are possibly great chances to prevent stolen devices from being unlocked. For this the only thing is to ensure that the previous owner has activated 'Lost Mode' in Find My iPhone. Doing this makes the chances of unlocking zero.
Wrapping Up!
So, these were the steps on how to turn off Find My iPhone feature on iOS devices. Although we highly recommend you to ensure that Find My iPhone is always turned on so that you can track your devices anytime, including AirPods, if you have either misplaced them somewhere around or you have lost it. What do you think is better than Find my iPhone? Let us know in the comments section below.
Keep reading Tweak Library for more such content.