How to Make Money Online Through InsMe
Here is another complete step by step guide on how you can possibly be making some passive income online which you can withdraw at any point of your choosing. The great thing about this platform to be mentioned here is that it is hassle free, what you sacrificing is just the time that you usually spend on IG.
With the aid of this article, our esteemed readers can be making a minimum of N2,415 weekly or more. If followed to the edge, you can make more than 100k per week, the point is you are paid daily on the app and you can cash out at any point in time you choose the choice of accumulation is up to use.
The app I am talking about is known as InsMe. What is InsMe, you may ask?
InsMe is connects to IG, one of the largest social entertainment platforms in the world, and is the official strategic partner of IG. InsMe has a powerful intelligent publicity engine and settlement system.
InsMe is a registered promotional Platform in Nigeria, which works in partnership with Instagram to promote the various ads being placed by various internet celebrities on the Instagram social media platform.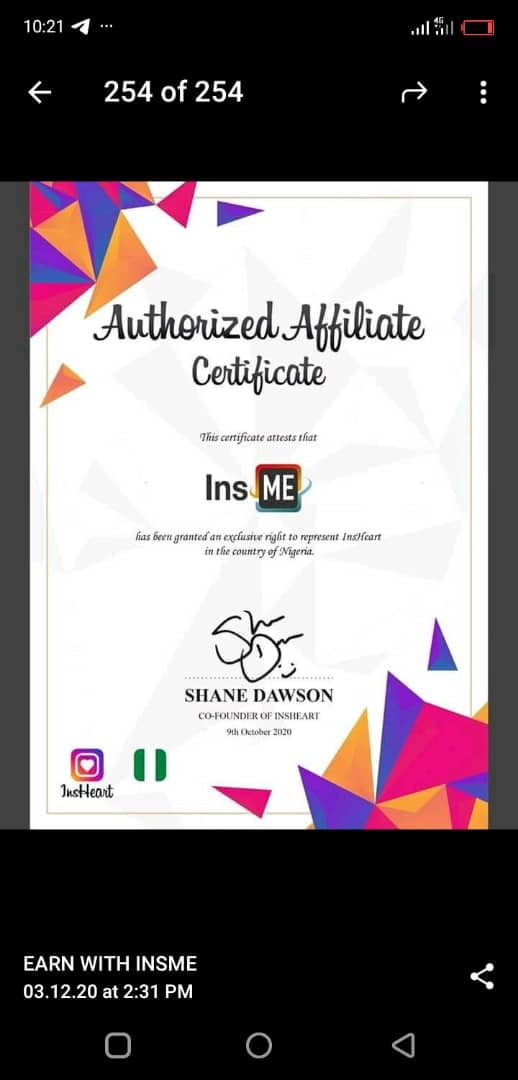 It is a website where celebrities/individuals like you and me go to get huge numbers of likes and views for their Instagram photos and videos. What these celebrities/individuals do is they pay InsMe to send views to their Instagram profile picture or video and this is what members sent by InsMe are to like and in the end upload proof of it on the Insme Platform.
Note that it is not compulsory that you must watch the video or photo on Instagram, what InsMe users need to do is to like the photo or video and thus upload proof of it in a form of a screenshot. Clients pay InsMe for the traffic sent to their Instagram post and in the end, the user obtains a part commission from InsMe for their time and effo
Requirements
An Android or iPhone, Or windows PC device
Instagram app
Your NG Sim (can be any network)
Active data subscription
Your ability to read and follow through this article
How to Make Money on InsMe App
As an InsMe registered member, you can earn by liking celebrities pictures and posts on Instagram. As earlier stated, there are number of tasks/missions an InsMe member can perform daily in order to earn.
A mission Completed on the free plan gives you #28. An InsMe member on the Free plan will be limited to 2 missions daily while paid member can complete up to 300 missions daily depending on the paid package.
InsMe also rewards her members for referring new users to register and perform tasks on the platform. InsMe rewards her members up to the 6th indirect downline.
A member will be earning 16% of his/her direct referee earnings, 8% of his 2nd indirect downline (the person referred by your referee) earnings, 4% of the 3rd indirect downline, 1% for the 4th, 5th and 6th indirect downline. This sounds awesome right? Fast your seatbelt and let ride on.
How to Register on InsMe or How to Become an InsMe Member
To Register on the platform and start making your cool and free cash on this great app, kindly follow the steps below; Remember not to miss out any steps to avoid any issues.
Click Here to create an account
Fill in your Registration details and click on the REGISTER button 
Now download and install the INSME APP on your phone and proceed to login. That's all.
How to Earn on InsMe
While you're logged in on the app, Click On the MISSION tab as seen on the screenshot below.
The missions available will be listed on the page, Click On RECEIVE on any mission, then tap Open Video Link and it'll Direct you to Instagram profile of a celebrity. Like the Profile or product displayed and screenshot it.
Now go back to the InsMe App and click on "add screenshot". Upload the screenshot you took earlier and then click on Submit.
You'll be credited within some few minutes with #28 for the free plan. Repeat the same steps to complete more missions.
How to Withdraw Your Earnings on InsMe
To withdraw your earnings, Click On the ME icon located at the bottom right hand corner of the app.
Click On Personal Info
Click on Banking Info and then update your bank details.
Now go back to the personal info and Click On security code.
Set up a secure withdrawal code of your choice.
Go back to ME tab again and click on ENCRYPTED WALLET beside your available balance.
Click On withdrawal, fill in your bank details and security code and Submit.
Your Bank account will be credited within 24hrs.
InsMe Reviews, Legit or Scam?
As at the time of writing this article, The InsMe is confirmed to be 100% legit and paying.
InsMe is also an authorized and registered Company in Nigeria and other countries of the world.
The platform is also in partnership with Instagram and derived their stable source of revenues from the Instagram Platform.
Merely looking at how the platform was formed, their source of revenue, the missions/tasks on it and packages, this is totally different from Ponzi schemes. InsMe integrates the most fashionable, most trendy, and the largest internet social entertainment market with the most advanced, simplest and most effective way for you to establish your personal enterpreneurship or earn a passive monthly income. Join InsMe now and become the promoter of IG!
Therefore, if you really want to make massive income from the platform you need to subscribe to one of their packages and the least I can recommend is the InsMe Plan 2 which goes for N6,888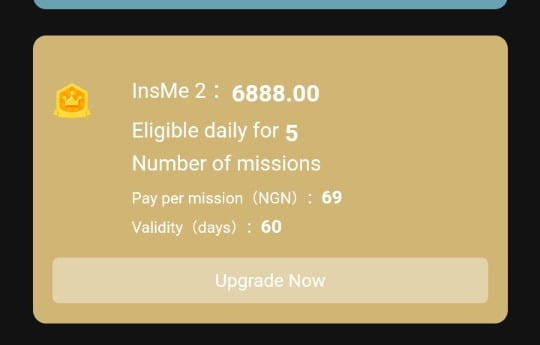 InsMe Available Plans or Packages
The Available InsMe plans, Number of daily missions/tasks, daily Earnings and plan validity are highlighted below;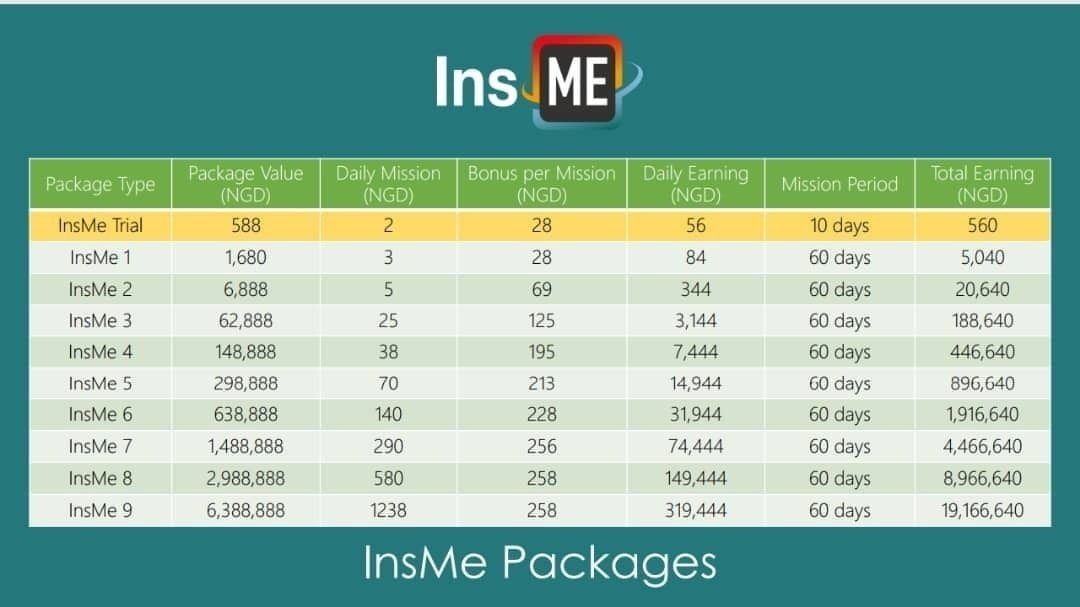 InsMe Trial (Default plan)
Subscription Fee: Free
No. of daily missions: 2
Pay per mission: N28
Plan validity: 3 days
InsMe 1
Subscription Fee: N1,680
No. of daily missions: 3
Pay per mission: N28
Daily Total Earnings: N84
Plan validity: 60 days
InsMe 2
Subscription Fee: N6,888
No. of daily missions: 5
Pay per mission: N69
Daily Total Earnings: N345
Plan validity: 60 days.
InsMe 3
Subscription Fee: N62,888
No. of daily missions: 25
Pay per mission: N125
Daily Total Earnings: N3,125
Plan validity: 60 days
InsMe 4
Subscription Fee: N148,888
No. of daily missions: 38
Pay per mission: N195
Daily Total Earnings: N7,410
Plan validity: 60 days
As you can see from the above screenshot, there are more five plans/packages, you can check them out once you become a member on InsMe. One fact is for certain. The more risk you're willing to take on, the closer you should get to receiving an excellent return.
How to Upgrade on InsMe
Click On The MEMBER tab, locate at the bottom of the screen.
You'll see the available upgrade plans there, make up your choice.
Click On The SIGN UP button at the top of the screen.
Click On "Pay Via payment gateway" or any other available options.
Enter your ATM card details to make payment for your chosen plan.
Once your payment is successful, Go back to the Members Tab
Click on the plan you make payment for and click upgrade below it. That's all
I and my team assistants are here for any questions. Kindly drop your comment below.