Get Airtime or Data Loan at 0% Service Fee Via MTN MoreTime
MTN Nigeria wants to make life easier for all its subscribers by launching this new loan service most especially for those who unexpectedly run out of data or airtime at critical times. The new service launched is known as MTN MoreTime.
The MTN MoreTime is an upgraded version of MTN XtraTime. The new service allows customers to take airtime and/or data loan at 0% service fee when they run out of airtime which is antonymous with the old MTN XtraTime that attracts 15.36% to 20.48% as service fees.
With MTN MoreTime, customers also get an additional 400% airtime bonus on airtime loaned ONLY and not on Data BUT will only pay back the face value of the loaned amount on the next recharge.
For example, you can take an airtime loan from N25 – N5000 and get a 400% extra bonus. You get to pay it back in 30 days.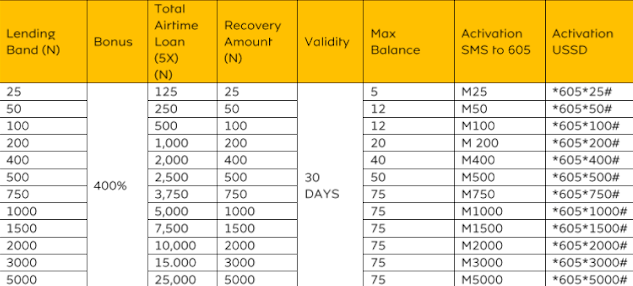 You can get a 1.2GB data loan at N1000 and payback in 30 days.

The MTN MoreTime is available to ONLY Prepaid customers that are eligible for the XtraTime service.
To be eligible for MoreTime service, you MUST:
Be a Prepaid customer
Have registered your number
Have been on MTN network for more than 6 months
Have spent at least N200 monthly for 6 months
Have between N0 and N75 in your main account
Paid-up any outstanding XtraTime or MoreTime loan request
Have an available credit limit
Let's hear from you what you feel about this new MTN Airtime and Data Loan at 0% Service Fee in the comment section below.